Designer Tips for Small Spaces
Urban life certainly has its perks and advantages. Being near public transportation, having shopping and services in proximity to your home and especially being able to walk to the best restaurants and nightlife a city has to offer. There's a compromise to be had for having the benefit of location and that's space. In urban centers, space is calculated in square footage and it can get quite expensive. That's why developers have been building smaller and smaller.
In Hong Kong for example, there is such a high demand and shortage of land, that new developments are building units under 300 square feet. This small size has also been found in certain urban developments in Montreal. Size matters but what's more important is how the space is designed. A small space can be made extremely efficient and functional with the proper techniques.
Here are 8 designer tips for making your small space more practical for everyday life :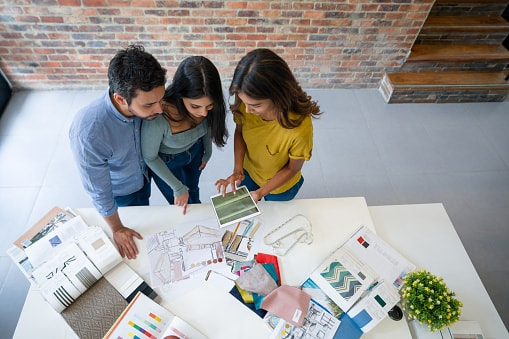 Ergonomic
The definition of ergonomics is "the parts or qualities of something's design that make it easy to use" but more specifically in design, ergonomics is about designing for people.
Space needs to be arranged in a manner that works for your needs. In small spaces, every space needs to be utilised and wasted space needs to be minimised.
There should also be a good flow between spaces, large openings and luminosity.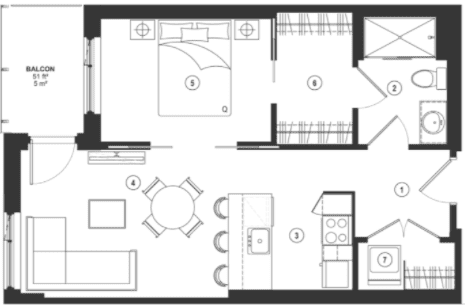 Multipurpose
In small spaces, each area can have multiple functions. For example, a kitchen island is used for eating and food preparation but could also double as a work area for sitting with a laptop. If your kitchen island doesn't already have electrical plugs, this would be a good investment. Another example could be turning a closet into a home office or even a cozy nursery. Also, a long hallway which would otherwise be wasted space could be easily turned into a library by adding bookshelves to the walls.
Built in (use the wall space / think vertical)
Built-ins make an impact on space saving in a small space. A built-in bookshelf or bathroom vanity for example takes up less space than bulky furniture. In closets especially, think about replacing them by built-ins like IKEA Pax system or local cabinet and closet makers. This eliminates the need to have furniture, freeing up essential floor space.
When it comes to small spaces, think vertical. Use the wall space and the height to maximise storage and space like bringing kitchen cabinets all the way up to the ceiling. You can use a great manufacturer of built-in space and save furniture.
Resource Furniture is a local Montreal business that offers solutions for small spaces whether it's wall beds that fold up when not in use or tables that turn into desks or built-in multi purpose solutions for everyday needs.
Smart Storage Solutions
Smart storage solutions are essential in a small space if you want to be able to hide the clutter. A good rule of thumb is "Everything in its place and a place for everything". Kitchens are now very innovative and there exists all sorts of solutions for optimising cabinets and storing goods.
Some examples include :
having a tall cabinet to house your broom and vacuum as well as a fold out ironing board and hanging cleaning products on hooks or on a pegboard wall

using drawer organisers

putting storage shelves above doors

using space under beds or under stairs
Minimalist Furniture
Furniture in small spaces should not be bulky or too large and take up too much precious floor space. Think minimalist, light colored furniture that blends into the space and offers a clear functional benefit. A bonus if the furniture offers multi-purpose convenience.
Some furniture designers have adapted their product offering to meet the needs of smaller spaces in urban cores. Even though the furniture is smaller, it shouldn't have limited functionality.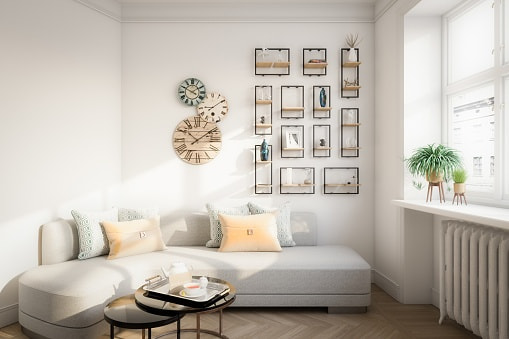 Good Lighting
In a small space, proper lighting is a must have. The more light, the better. Good lighting starts with ceiling lights such as recessed lighting in rooms and hallways. Once the recessed light is sufficient, then you can think of adding decorative mood lighting such as chandeliers, pendants and wall sconces. Hanging lights provide ambiance to spaces and keep surfaces clear of clutter. If you have low ceilings, opt for a flush mount or a semi flush mount to add decor without taking up height. The goal is to draw your eye upwards to create a sense of height.
Use Glass Dividers
Glass dividers offer space divisions and added privacy without creating dark spaces. As previously mentioned, flow and ergonomics are keys to optimal design in small spaces. Glass dividers allow for an open concept feel but can also divide a bedroom from an office or a kitchen so you can really get that sense of relaxation in the bedroom.
Pocket Doors
Pocket doors are doors that slide open into walls. Ideally, pocket doors should be used in any small spaces to avoid having to open a door and losing the unused space behind it. Not only do pocket doors save space, but they also improve the sense of flow. You can keep them open to let in light flow when rooms are not being used. It also makes a difference to enlarge the openings whether in width or in height to fake a sense of grandeur in a small space.